Apply online
Visit our office
Mail documents
We prepare your documents and application
Receive visas
Submit application in person
Expert in Thailand visa services since 2003,
VisaHQ is a private visa agency, not affiliated with the government of Thailand. VisaHQ provides
expediting services
error-proofing your application
hand-carry delivery to Consulate
real-time status updates
dedicated call center
for visa to Thailand and charges a service fee. See how we compare in the 90 seconds
video
Select the type of Thailand tourist visa application:
and send the following documents to VisaHQ:
a
Visa application form. Fully completed and signed application form.
b
Original passport. The passport must be valid at least 6 months after the intended date of departure from the territory of the destination country and has at least 2 blank visa pages.
c
Passport-type photograph. Include 2 passport style photos, (2'x2') with a white background, taken within the last 6 months.
d
Itinerary. Copy of round trip tickets or confirmed itinerary.

e
Proof of accommodation. A copy of the reservation/confirmation of a hotel booking with a hotel in Thailand or tour operator, OR a copy of an invitation from a travel agency in Thailand.

f
Declaration form.
Complete and sign one declaration form.
here
.
g
Bank statement. Funds of at least THB 10,000 per person and THB 20,000 per family.

h
Proof of status. Copy valid Indonesian residence permit, resident visa, or Indonesian ID card.

i
Employment letter. Letter from your employer, stating that a leave of absence has been granted. If you are self-employed please include business license.For students - student card.

For minor under 20 years old, please provide following documents:

• Notarized copy of a birth certificate

• Notarized copy of marriage certificate, In case of sole custody notarized copy of court order must be provided.

• Notarized copy or original passports or ID of mother and father/ legal guardian

• Original letter of notarized consent for the minor to travel abroad from mother and father/ legal guardian
Thailand tourist visa fees for citizens of Zimbabwe
Type of visa

Validity

Maximum validity refers to the period over which you are allowed to enter a given country. Validity of visa starts from the date of issuance of visa.

Processing

Processing times start on the next business day following submission and serve as indications of processing times under normal circumstances only.

Embassy fee

Service fee
Total cost

Single entry

up to 3 months
10-15 business days
64.20
284.00
348.20
up to 6 months
10-15 business days
293.00
284.00
577.00
Validity: up to 3 months
Processing: 10-15 business days
Total cost: 348.20

Cost calculation

Embassy fee:

64.20

Processing:

284.00

:

0.00

Total cost: 348.20
Validity: up to 6 months
Processing: 10-15 business days
Total cost: 577.00

Cost calculation

Embassy fee:

293.00

Processing:

284.00

:

0.00

Total cost: 577.00
Thailand visa for citizens of Zimbabwe is required. For more information please contact the nearest
Thailand embassy
.
Thailand visa information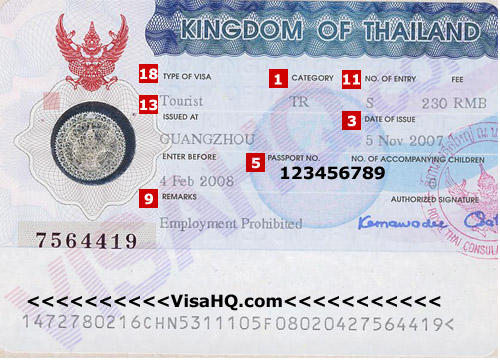 1
Thailand Visa category as defined by Thailand Embassy.
3
Thailand Visa issue date (format might be different from MM-DD-YYYY).
5
Traveler's passport number.
11
Number of allowed entries to Thailand (subject to visa validity dates).
13
Thailand Consulate that issued a visa.
18
Purpose of entry to Thailand (type of Thailand visa)