Apply online
Visit our office
Mail documents
We prepare your documents and application
Receive visas
Submit application in person
Expert in Myanmar visa services since 2003,
VisaHQ is a private visa agency, not affiliated with the government of Myanmar. VisaHQ provides
expediting services
error-proofing your application
hand-carry delivery to Consulate
real-time status updates
dedicated call center
for visa to Myanmar and charges a service fee. See how we compare in the 90 seconds
video
required
required
required
required
required
Myanmar Tourist visas for citizens of New Zealand are electronic. No documents need to be mailed to VisaHQ for processing. You will receive your electronic visa via e-mail.
Fill out Myanmar tourist e-visa application form online
and provide digital copies of the following documents:
a
Scanned copy of New Zealand passport. A clear, colored scan copy of the information pages of your valid, signed passport including the bio-page.
b
Passport-type photograph: must be uploaded to your applicant profile.
Travelers MUST enter Myanmar at Yangon International Airport,
Mandalay International Airport,
Nay Pyi Taw International Airport,
Tachileik Land Border Checkpoint,
Myawaddy Land Border Checkpoint,
Kawthaung Land Border Checkpoint
Tamu Land Border Checkpoint,
Rih Khaw Dar Land Border Checkpoint to be eligible for e-visas. Otherwise, please use Tourist Visa link.
Additional required documents for applicants born in Burma/Myanmar
• Previous visa. A copy of a previously issued Myanmar visa, if this is not your first visit.
• Original Myanmar passport. Applicants must surrender their original Myanmar passport. If passport has already been surrendered, provide a copy of the certified letter from the Embassy acknowledging receipt.
• Police report and Affidavit. If original Myanmar passport has been lost or stolen, provide a certified copy of Police Report and a NOTARIZED
Affidavit of Citizenship
.
Myanmar tourist e-visa fees for citizens of New Zealand
Type of visa

Validity

Maximum validity refers to the period over which you are allowed to enter a given country. Validity of visa starts from the date of issuance of visa.

Processing

Processing times start on the next business day following submission and serve as indications of processing times under normal circumstances only.

Embassy fee

Service fee
Total cost

Single entry

up to 3 months
5 business days
63.00
70.00
133.00
Validity: up to 3 months
Processing: 5 business days
Total cost: 133.00

Cost calculation

Embassy fee:

63.00

Processing:

70.00

:

0.00

Total cost: 133.00
Myanmar visa for citizens of New Zealand is required. For more information please contact the nearest
Myanmar embassy
.
Myanmar visa information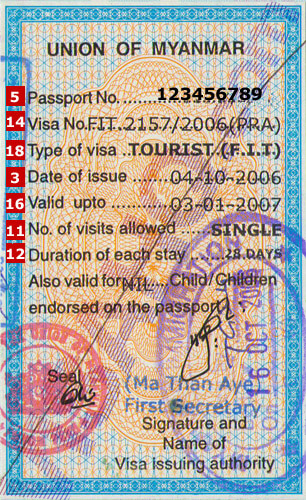 3
Myanmar Visa issue date (format might be different from MM-DD-YYYY).
5
Traveler's passport number.
11
Number of allowed entries to Myanmar (subject to visa validity dates).
12
Maximum duration of stay in Myanmar per each entry.
16
Date of Myanmar visa expiration
18
Purpose of entry to Myanmar (type of Myanmar visa)