Apply online
Visit our office
Mail documents
We prepare your documents and application
Receive visas
Submit application in person
Expert in France visa services since 2003,
VisaHQ is a private visa agency, not affiliated with the government of France. VisaHQ provides
expediting services
error-proofing your application
hand-carry delivery to Consulate
real-time status updates
dedicated call center
for visa to France and charges a service fee. See how we compare in the 90 seconds
video
Travellers who arrive in France via air and sea, will need to provide proof of a negative COVID-19 test performed no longer than 72 hours prior to arrival in the country.
Please call to check the availability of the Consulate.

Please note that you need to attend the visa application center to provide your fingerprints. VisaHQ will fill up the visa application form, check the documents, book an appointment and collect the passport on your behalf.
Fill out France tourist visa application form online
and send the following documents to VisaHQ:
a
France visa application form. Completed application form will be prepared within 5 business hours of order submission and emailed to you to download, print and sign.
b
Original, signed Burkina Faso passport with at least 3 months of remaining validity beyond the last day of your stay in the Schengen area and have at least 2 visa pages clear of any markings.
c
Passport Photo: 2 Include a passport style photo, with a white background, taken within the last 6 months. You may also choose to upload a photo to your order for us to print. There is a surcharge associated with this service.
d
Proof of residency. Valid residency in Australia for at least 3 months from the departure date from the Schengen area. Note that the Australian visa must be linked to your current passport.

e
Itinerary. Copy of round trip tickets or confirmed itinerary.

f
Travel insurance. Document showing the name of the insured person and policy number. Must cover any costs of repatriation for medical reasons and any medical emergency treatment up to a minimum of 30,000 euros with a validity for New Caledonia or French Polynesia and for the whole duration of the cruise. Please underline the validity dates and coverage on the contract.

g
Bank Statement. Copies of bank statements from the past 3 months showing applicant's name, address, and a positive balance.

h
Employment Letter. Copy of a letter from your employer on business letterhead, with contact details, stating that a leave of absence has been granted, purpose and duration of the trip, and that you will be returning to your current job. The Employment letter must be addressed to the Consulate of France. If you are self-employed, include a copy of your business license and tax return. If you are retired please submit proof of your retirement fund

i
Hotel Reservations. Copy of confirmed hotel reservations.

Please note, you must pay A$130.4 consular fee for the visa personally at the Embassy of France.


Visa applications should be submitted for a maximum of 6 months, and no later than 15 days, before the trip.
France tourist visa fees for citizens of Burkina Faso
Type of visa

Validity

Maximum validity refers to the period over which you are allowed to enter a given country. Validity of visa starts from the date of issuance of visa.

Processing

Processing times start on the next business day following submission and serve as indications of processing times under normal circumstances only.

Service fee
Total cost

Single entry

up to 3 months
7-15 business days
125.00
125.00

Multiple entry

up to 3 months
7-15 business days
150.00
150.00
Validity: up to 3 months
Processing: 7-15 business days
Total cost: 125.00

Cost calculation

Our service:

125.00

:

0.00

Total cost: 125.00
Validity: up to 3 months
Processing: 7-15 business days
Total cost: 150.00

Cost calculation

Our service:

150.00

:

0.00

Total cost: 150.00
Maximum stay in France:
90 days

Maximum stay refers to the number of days allowed on a single visit.
Maximum stay in France: 90 days

Maximum stay refers to the number of days allowed on a single visit.
The Embassy of France offers the visa processing time of 15 business days.
France visa for citizens of Burkina Faso is required. For more information please contact the nearest
France embassy
.
France visa information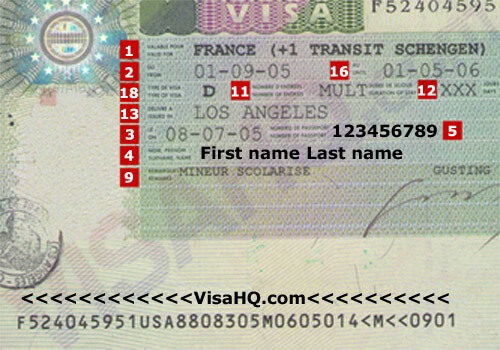 1
France Visa category as defined by France Embassy.
3
France Visa issue date (format might be different from MM-DD-YYYY).
4
Name of France visa holder
5
Traveler's passport number.
11
Number of allowed entries to France (subject to visa validity dates).
12
Maximum duration of stay in France per each entry.
13
France Consulate that issued a visa.
16
Date of France visa expiration
18
Purpose of entry to France (type of France visa)